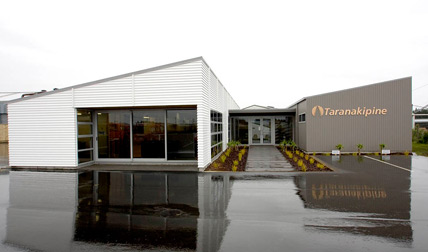 "S. A. Hofmans Ltd trading as Hofmans Builders was contracted by Taranakipine in 2008 to build our new offices.
The offices are an Ian Pritchard Architects design and Steve was personally involved in the design phase providing important input ensuring the building not only looked good but also worked well and was cost effective to build.   Steve has a good eye for design and is prepared to voice his views if asked for.  Thanks to Steve's input, during the course of the project we modified a number of features that improved the overall product without adding any cost.
The quality of work was second to none. The entire team have excellent attention to detail and are not prepared to accept below standard workmanship from themselves or any subcontractor. Steve's second in charge, Ants, has the same high standards as Steve. They are all very easy to work with and treat the customer like a customer. There was never a disagreement during the entire project.
This project from day one was under time pressure. Steve made the commitment to us that we could be in the office after the Christmas holidays, and we were. The office was built through the winter and there was not a single day that was missed due to weather or any other reason.
It was pleasure to have Steve and the team build our new office which we are very proud of. We have continued to use them for other work at Taranakipine and I have personally used Hofmans Builders for renovations in my own home."
Tom Boon
CEO – Taranakipine
Project Details
Client:
Taranaki Pine
Project Type:
Commercial
---
Gold Award
Retail and Business Project